® Intel, the Intel logo are trademarks or registered trademarks of Intel Corporation or its subsidiaries in the United States and other Countries.


31st IEEE International Parallel &
Distributed Processing Symposium
May 29 – June 2, 2017
Buena Vista Palace Hotel
Orlando, Florida USA
IPDPS 2017 KEYNOTE SPEAKERS

IPDPS 2017 UPDATES & ALERTS
The five-day IPDPS program includes three days of contributed papers, invited speakers, industry participation, and student programs, framed by two days of workshops that complement and broaden the main program. For details and updates on all events, return to this page.

Orlando is home to a rich offering of indoor and outdoor attractions. Located a mile from Walt Disney World® and 4 miles from Epcot, the Buena Vista Palace Hotel is a 5-minute walk from Downtown Disney with a complimentary shuttle to all Disney Theme Parks and Water Parks. The sprawling Lake Buena Vista resort offers a full menu of amenities and family friendly activities as well as ideal meeting space for IPDPS 2017.

March 27th Deadline for Advance Registration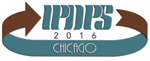 May 23-27, 2016
Chicago Hyatt Regency
Chicago, Illinois USA