® Intel, the Intel logo are trademarks or registered trademarks of Intel Corporation or its subsidiaries in the United States and other Countries.

Report on IPDPS 2017

31st IEEE International Parallel &
Distributed Processing Symposium
May 29 – June 2, 2017
Buena Vista Palace Hotel
Orlando, Florida USA
IPDPS 2017 KEYNOTE SPEAKERS – Slides & Abstracts

IPDPS 2017 PhD Forum Poster Awards Announced at Banquet
The PhD Forum awards were presented at the IPDPS 2017 banquet by Trilce Estrada from University of New Mexico and Jay Lofstead from Sandia National Lab, co-chairs of the IPDPS student programs. The three recipients were:



•Moustafa Abdelbaky
Distributed Software-Defined Environments Using Dynamic Infrastructure Service Composition
Rutgers University, USA

•Salvatore Di Girolamo
Transparent Caching for RMA Systems
ETH Zürich, Switzerland

•Wei Xie
Malloc-check: A Malloc Library for Semi-Transparent Checkpoint-Restart
Texas Tech University, USA

More IPDPS 2017 Reports to Follow
If you have other reports to share, send email to contact@ipdps.org.

March 27th Deadline for Advance Registration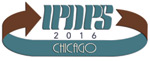 May 23-27, 2016
Chicago Hyatt Regency
Chicago, Illinois USA