® Intel, the Intel logo are trademarks or registered trademarks of Intel Corporation or its subsidiaries in the United States and other Countries.
IPDPS 2011 Commercial Participation
2011 Commercial
Supporters and Participants

PLATINUM PATRON


Join us at Intel Platinum Patron Night on Thursday evening! This event will be an exciting opportunity for IPDPS attendees to network and learn first-hand about the Intel Academic Community's free resources to support parallel computing research and teaching. Intel recruiters will also share information about engineering internships and careers for recent college graduates. Attendees will enjoy free beverages and hors d'oeuvres. We will also hold drawings to win free netbooks (must be present to win). We look forward to seeing you there!

COMMERCIAL PARTICIPANT-PATRONS






IPDPS 2011 Book Exhibitor (with Morgan Kaufmann)

Publisher of Journal on Parallel and Distributed Computing
Underwriter of IPDPS Best Paper Awards



MEDIA SUPPORT



Request your FREE
subscription today!

Stay up-to-date with the latest news for supercomputing professionals. Subscribe to HPCwire today and gain access to breaking news, relevant issues, peer discussions, premium content, and HPC industry resource tools including market trends, career placement, and live coverage of major high performance computing events.

IPDPS 2011 REGISTRATION IS CLOSED
Registration Details

17 March 2011
Author registration deadline
27 March 2011
Advance registration deadline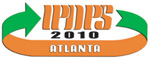 April 19-23, 2010
ATLANTA (Georgia) USA