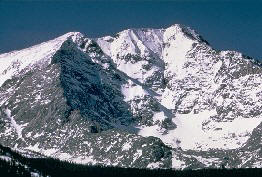 Special Invitation to
IPDPS 2005 Attendees
Last year in Santa Fe, the IPDPS 2005 host general chair, H.J. Siegel, showed slides of the Rocky Mountain National Park and other local points of interest. As promised, a tour of the Park has been organized by Destination Services of Colorado. Join H.J. on Sunday, April 3rd on a day-long bus tour of the Park to experience first-hand one of the wonders of the American West. View Slide Show (pdf)
Destination Services of Colorado has organized three tours to meet the interests of IPDPS attendees and accompanying guests and to allow attendees to take a break from technical meetings to participate.

To register for the tours, download the tour registration form below and mail or fax directly to Destination Services of Colorado. Register by March 16th to be assured of a place.
Download Registration Form (pdf)

NOTE: Please note that conference sponsors and organizers have no link to the services offered by DSC and any arrangements made are the sole responsibility of attendees and guests accompanying them.
Notice: Tour #1 registration has filled two buses and are scheduled to depart the Omni Interlocken Hotel at 10 AM on Sunday, April 3rd. Your registration lists the tour start time as 11 AM and, indeed, that is when the buses should reach the Rocky Mountain Park. Dress warmly and wear good walking shoes.

We regret that the DSC Tour #2 and Tour #3 have been cancelled due to low registration. For those who registered, your credit card will not be charged. Please check with the hotel for alternative tour possibilities during the week.
---
Tour #1 – Featured Tour
ROCKY MOUNTAIN NATIONAL PARK
Sunday, April 3, 2005 – All day
Tickets: $60

Tour #2
RED ROCKS & BUFFALO BILL SITE
Tuesday, April 5, 2005 – Afternoon
Tickets: $50

Tour #3
DENVER IN A DAY
Thursday, April 7, 2005 – Afternoon
Tickets: $40

Download Detailed Tour Description (pdf)