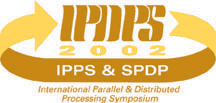 April 15-19, 2002
Marriott Marina, Fort Lauderdale, Florida
IPDPS, an international forum serving members of the computer science & engineering and computational science communities, considers setting almost as important as content for its annual event. In its 16th year, IPDPS will locate in Fort Lauderdale, the "Venice of America," a city of islands held together by an intricate web of canals, rivers, bays and waterways hundreds of miles long. The Marriott Marina offers waterfront and poolside dining and a view of world class yachts, and it is within walking distance of local shopping and less than a mile from pristine beaches featuring a natural coral reef system just a few hundred feet offshore.
Strategically located on the southeast Atlantic shore of Florida between the international metropolis of Miami and the luxurious locale of Palm Beach, Fort Lauderdale has shed its image as the student "spring break capital" and along with its beaches and water sports offers entertaining and educational family attractions. By day, you can wander through a lush butterfly rainforest, go canoeing in local parks, or swim with the dolphins! And you can travel the city by water taxi, sightseeing, shopping and taking in the rich nightlife.

A day trip away is the Everglades National Park, the only subtropical preserve in North America where alligators and crocodiles exist side-by-side and a wealth of bird species, in particular waders, live in their natural habitat. Noted for its distinctive plant and animal life, the area may be explored via guided tours and educational excursions that allow visitors to observe the park's wilderness treasures without intruding on its fragile ecosystem of plants and waterways as well as animal life. Advance planning will reward visitors with a rare treat of natural beauty and spectacle.