ACCOMMODATIONS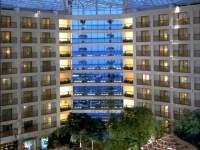 Hyatt Regency
San Francisco Airport
An expansive atrium encompassing an oasis of lush greenery and cascading water. Islands of leisure activity or peaceful relaxation beckoning the busy traveler. A world unto itself yet minutes away from downtown San Francisco, your next meeting, or your next flight.


3 WAYS TO REGISTER
FAX: Print Hotel Registration Form (pdf)
ONLINE: Online Registration (use G-IEEE in the SRC Number field)
CALL: 1-800-720-0059 or +1 650 347-1234.
The Guaranteed IPDPS 2001 Special Hotel Guest Rates for April 23-27, 2001 are:
Single/Double-$179
Triple-$204
Quad-$229
On a space available basis, these rates also apply 3 days before and 3 days following IPDPS, April 20-30, 2001. When registering, be sure to refer to IEEE Computer Society as conference sponsor. Requests received after March 31st are subject to space availability, but every effort will be made to confirm the rate/room type desired or, if not available, at next available rate/type.

NOTE: Deadline for guaranteed rate extended to at least April 10th.

NOTE: Due to California's power costs, the state has mandated a daily

energy surcharge of $2.50 on all hotel guest rooms. This will

be listed by the Hyatt Regency as "CA Energy Surcharge" as part

of daily charges on your bill.

To register, call 1-800-720-0059 or +1 650 347-1234. You may also register on-line, using G-IEEE in response to request for "special rate" identifier. If you need to fax or mail a deposit to secure your reservation, use the conference pdf form which contains the fax number and mailing address.

Click here for more information about San Francisco.